Dork20 at a Glance
A Dork Tower-themed RPG accessory. Keep your players guessing! Trade them with your friends! Paper your walls with their beauty!
Use the cards in your d20 games to bring excitement, new rules, and Dork Tower ridiculousness to your table.
Features art by award-winning cartoonist and all around funny guy John Kovalic.
Perfidious Beasts Everywhere: The World of Dork20
Take your d20 games to a new (and probably silly) level with the Dork20 accessory! Bring the sensibilities of the platinum-level-popular Dork Tower comic to your table.
Each card features a Dork Tower-themed title and gameplay effect. Don't you want an Eye of the Beholder? Literally? Of course you do.
Dork20 is currently out of print.
Missed My Vital Spots: Gameplay Basics
At the beginning of a session of your favorite d20 game, give each player a hand of four cards. They can use these cards on any PC, NPC, monster, or other game element.
To make matters even more ludicrous, give the GM a hand too!
The cards allow nigh-impossible things to happen, with witty commentary to boot. Turn that turbonium dragon into your turbonium bee-atch with Dork20.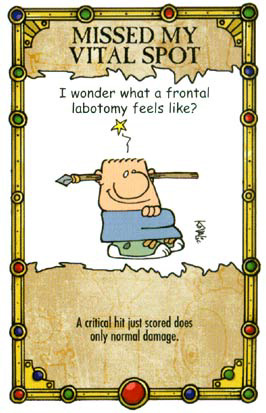 Awards
2004 ENnie Award Nominee – Best Aid or Accessory.
2004 ENnie Award Honorable Mention – Best Licensed Product.
2003 OgreCave's Christmas Gift Guide.
Vital Stats
| | |
| --- | --- |
| Artist: | John Kovalic |
| Editor: | Michelle Nephew |
| Original Concept: | Noah Sax |
| MSRP: | $12.95 (out of print) |
| Atlas Stock #: | AG3227 |
| Barcode: | 1-58978-046-9 |
| Format: | 56 cards and a rules sheet in a tuckbox |
| Release Date: | November 2003 |