---
Announcing Gloomier: A Night at Hemlock Hall on Kickstarter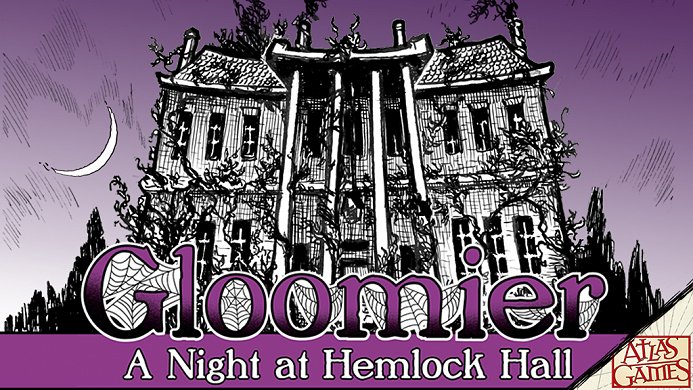 Gloomier: A Night at Hemlock Hall is coming to Kickstarter on March 9, 2021!
This campaign includes these coveted rewards:
Gloomier: A Night at Hemlock Hall, the new stand-alone card game

Gloom Grief Case, the deluxe storage box to hold all your Gloom games
The Gloom Chronicles, a campaign-style mini-expansion

Gloomier: A Night at Hemlock Hall is a stand-alone competitive storytelling card game for 2-5 players. The darkly humorous game comes with 110 transparent cards, including 14 new Guests and 6 new Stories.
Like all Gloom games, Gloomier: A Night at Hemlock Hall is a storytelling game. Stack transparent cards to boost your character's score, while blighting opponents with good fortune. Then, tell the tragic tales of these miserable misanthropes.
Some of best features of Gloomier: A Night at Hemlock Hall are:
A return to the beloved original setting of Gloom's Hemlock Hall.
Expands the world of the Wellington-Smythe family.
Puts a focus on storytelling by providing clear story prompts.
More of the best mechanics by adding more Guests and Stories.
Compatible with all core Gloom games.
"It's definitely a deeper dive. I'd say it's 'Hemlock Hall, Season 2.'" - Keith Baker, Designer

Sign up now to be notified of the launch on Kickstarter March 9th.

Be sure to follow @AtlasGames on social media or subscribe to our newsletter to hear more detailed information about Gloomier as it is announced!

---
Categories
Headlines
Gloom