---
Magical Kitties Kickstarter is Live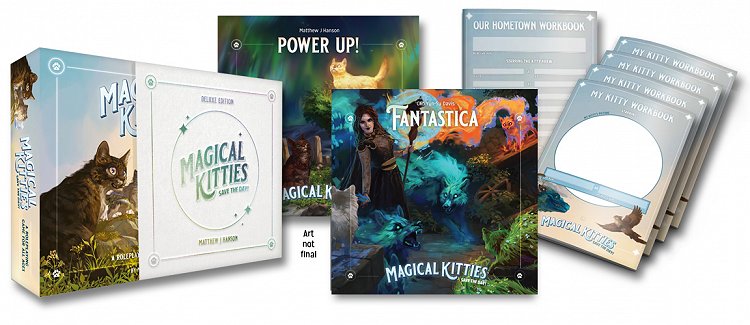 The Magical Kitties Level Up campaign has launched on Kickstarter! Go directly to the Kickstarter HERE.

Magical Kitties Save the Day is the hit roleplaying game designed for all ages, and excels as an introduction to the hobby. The elegantly simple rules system puts the emphasis on storytelling and supports a setting and characters that players are familiar with and love from the start.

This campaign includes:
A reprint of the Deluxe Edition of Magical Kitties Save the Day!

Power Up sourcebook with new powers and epic adventures
Fantastica hometown filled with fairytales and magic
Our Hometown Workbook to flesh out your kitty krew's home
My Kitty Workbook to track your kitty character's stats and record your adventures
All of the previous Magical Kitties products are available as add-ons if you missed out on the fun last time. Plus, we're getting the zoomies over stretch goals like form-fillable PDF workbooks, a beautiful Fantastica poster map with art by Brian Patterson, and more!

Pounce on this while you can. Go to the live Kickstarter
---
Categories
Headlines
Kickstarter