---
Cthulhu Products Are 15-45% Off Through November 30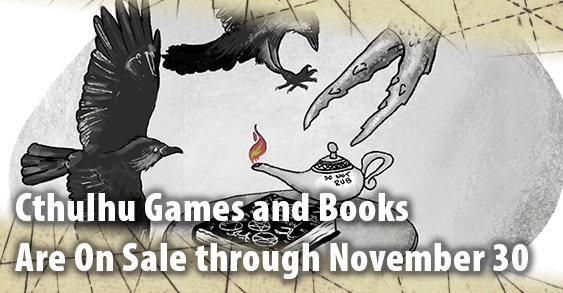 2020 has been quite the year, and we can't think of a better way to top it all off than by calling forth dread Cthulhu! That's why all our Lovecraft-inspired products are on sale through the end of November. Whether you need a gift idea or a horror-filled-yet-escapist bedtime story, we have you covered.
The following games are included in our sale:
Cthulhu 500 - 45% off. Outrace (and devour) your opponents in this Cthulhu Mythos-themed card game for three to eight players.
Fast & Fhtagn - 45% off. Build the streets, then race on them. Watch out for Old Ones, though. The first player to cross the randomly drawn finish line wins the race. Creatures and cultists, start your engines!
Cults Across America - 45% off. A tongue-in-cheek Cthulhu Mythos themed board game about cultists trying to take over the United States. A blend of mechanics — dice rolling, resource management, combat simulations — keep everyone at the table engaged.
Lost in R'lyeh - 15% off. A hand-management and self-elimination game for two to six players. Escape the dread city of R'lyeh in this card game based on HP Lovecraft's short story "The Call of Cthulhu"

Cthulhu Gloom - 15% off. The game of unspeakable incidents and squamous consequences. A Cthulhu re-skinning of our best-selling Gloom.
Cthulhu Gloom: Unpleasant Dreams - 15% off. This expansion for Cthulhu Gloom adds a fifth player (and even more misery) to your game.
Mini Mythos Books - Lovecraft-inspired parodies of classic children's literature, written by Cthulhu-mythos aficionado Kenneth Hite.
Don't wait; stock is limited! Sale prices good through November 30th.
---
Categories
Headlines
Fast & Fhtagn
Gloom
Lost in R'lyeh