---
Developing Dice Miner's Mountain
The Challenge
The mountain in the photo of Joshus DeBonis and Nikola Risteski's pitch sheet for Dice Miner was what really got my attention. If you were a backer of our Dice Miner Kickstarter campaign, or if you picked it up in a store, there's a strong possibility that it's what got your attention, too.

Here's how Dice Miner looked when Josh and Niko first sent it over, a printed mountain taped to the back side of a mountain glued together from about 15 individual clear acrylic pieces.

If your first thought when you saw Dice Miner was like mine, your second thought was probably not at all like my second thought, back when I was looking at that pitch sheet. My second thought was: "How the heck are we going to mass-produce that?!"

The problem with building the Dice Miner mountain isn't with technology. The tech definitely exists to make three dimensional objects out of acrylic, plastic, punchboard, wood, or a million other materials.

The twin questions with a unique game component always revolve around reliability and expense. Reliability, in terms of the mountain's ability to do its job, game after game. Can it collect and hold dice in the right configuration for dozens or hundreds of plays over the course of its lifetime, through shipping, setup, and storage, in situations where it will not necessarily be treated with any kind of delicacy? And expense, in terms of what thousands of game-players will be not just willing, but excited, to pay for a game of Dice Miner's level of complexity?

Getting Help

As the project's producer, I had ideas about our targets for reliability and expense, but not a deep enough expertise to be confident. I put out a call for folks who could help, and was reminded that my former Fantasy Flight Games co-worker Jason Beaudoin was doing freelance consulting in the area. Jason's 3D and production chops go back to the work we both did on FFG's edition of Horus Heresy in 2009, when he was the creative and production mind behind that game's printed, vacuformed board elements.

Long story short, Jason was crucial to making Dice Miner's mountain work. I had all but abandoned the idea of creating a viable punchboard mountain, but he wasn't so sure. After our first meeting, he returned four different mountain ideas.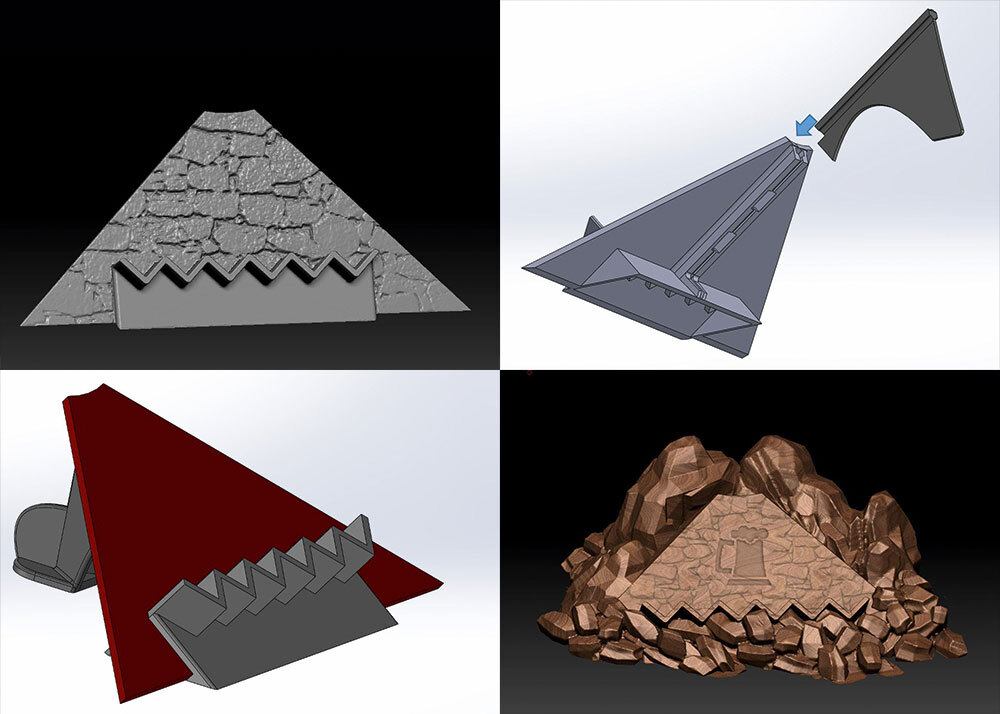 Deciding

Between regular paper printers, spare cardboard, X-Acto knives, and a 3D printing service, we had prototypes made and we played Dice Miner on them. We distributed them to our likely factory partners and got quotes. I ran budget scenarios. We talked about what looked cool, what could be printed, and which production partners we felt like we could trust to actually produce what they were proposing.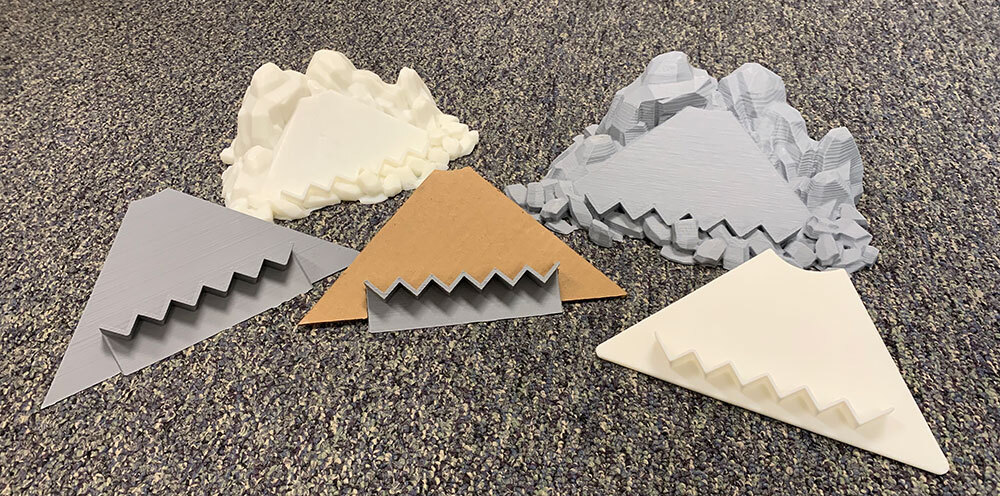 We knew we'd be Kickstarting Dice Miner, and our previous campaign's backer dynamics played into the picture. We know that backers appreciate the chance to choose between standard and deluxe backing options, which led us to a "Why not both?" answer to the punchboard-or-plastic question: Punchboard for the Standard Edition, plastic for the Deluxe.

My budgets suggested that this would be viable for both conservative and optimistic backer projections, and further, that we wouldn't be accidentally doomed by the outside success we did eventually achieve. (Sometimes, a great game at Kickstarter can lead to a production configuration where later reprints aimed at the regular distribution channel are financially impossible. These can be good problems, but they can also be destructive ones.)

Dice Miner Reaches Gamers!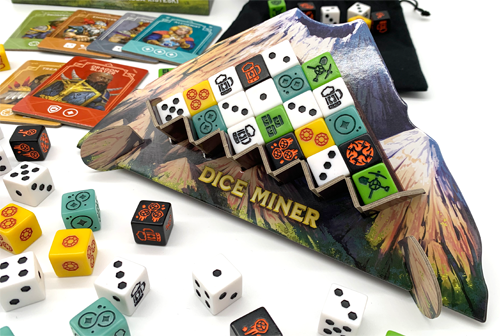 With Dice Miner now reaching backers, we've received overwhelming positive response to the game's mountain component. And it's been nice to hear from backers who like both editions, which suggests that offering both punchboard and plastic options has, in fact, served more gamers than one or the other alone would have done.

Both Dice Miner Standard Edition and Dice Miner Deluxe Edition are available for order now! We look forward to hearing what you think.
-Jeff Tidball, Dice Miner Producer
---
Categories
Art & Previews
Behind the Scenes
Dice Miner