Seismic at a Glance
A tile-placing, road-building game for two to four players.
Build roads along the San Andreas Fault while earthquakes tear them down.
A quick-to-play yet deceptively strategic option for fans of tile placement games.
Earthquake Central: The World of Seismic
You're in charge of a road crew for the Seismic Asphalt & Paving Company. It's a big job with a lot of responsibility—without your crew and the roads you build, the people of San Andreas can't go anywhere.
There's just one problem. Frequent earthquakes keep tearing down the roads. Can you keep ahead of the destruction and create longer roads than the other crews?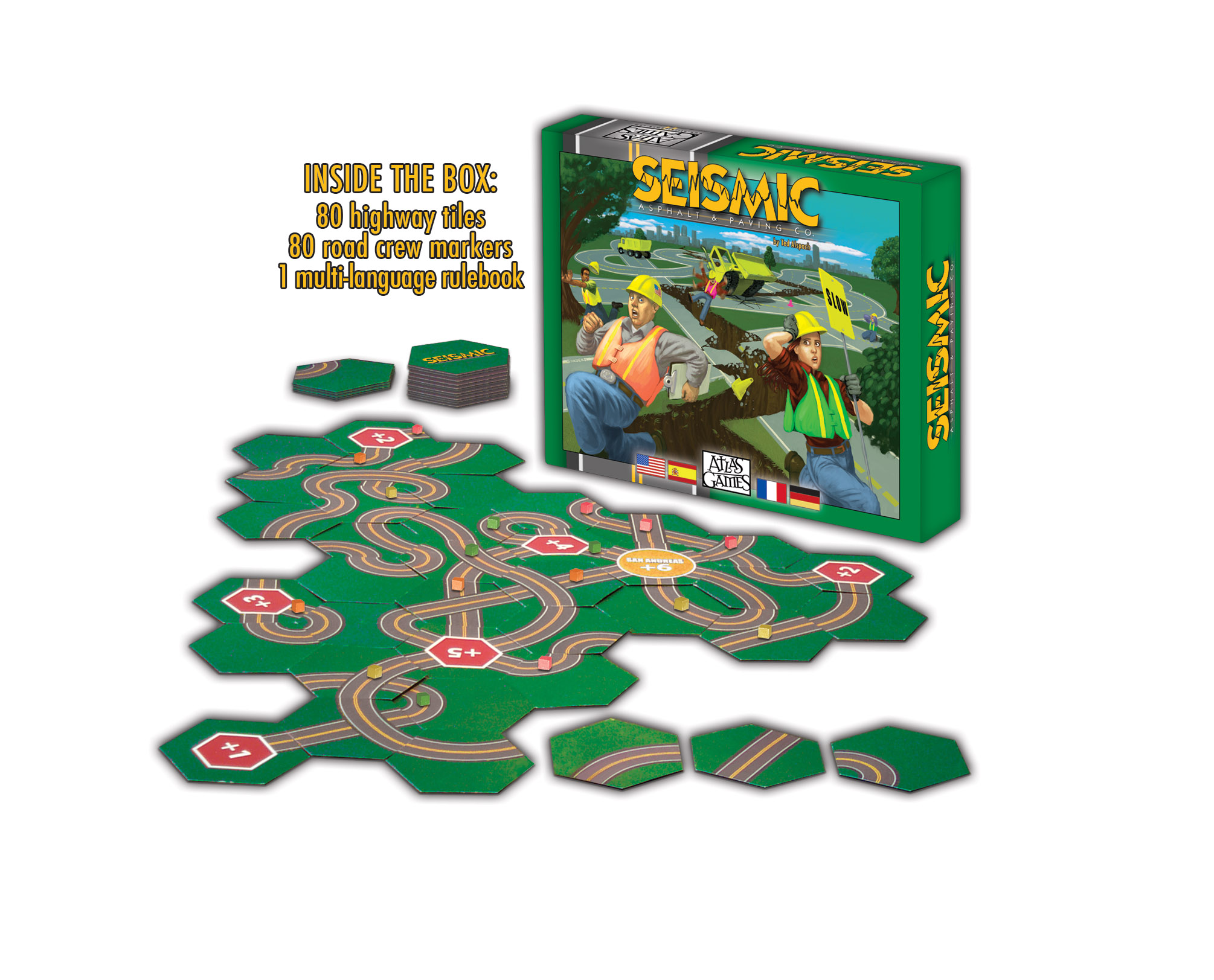 Road to Destruction: Gameplay Basics
Seismic is a light tile placement game. During their turn, each player draws a road tile, plays a tile, and places a road crew to claim it as their own.
When a quake tile appears, devastation results! A line of tiles emitting from San Andreas is completely obliterated.
Place your tiles carefully and choose the path of destruction that keeps your roads safe and destroys the competition.
Who will be the king of the roads? Find out in Seismic!
Download the web banners for your own site!
Awards
2008 GAMES Magazine's Games 100 List – Best Family Game category.
2006 OgreCave's Christmas Gift Guide.
Vital Stats
| | |
| --- | --- |
| Designer: | Ted Alspach |
| Editor: | Michelle Nephew |
| Art: | Steven Sanders |
| MSRP: | $29.95 |
| Atlas Stock #: | AG1300 |
| Barcode: | 1-58978-089-2 |
| Format: | Multi-language rulebook (English, French, German, Spanish), 80 highway tiles, 80 road crew markers in a 8.5 x 10.5-inch box. |
| Number of Players: | 2-4 |
| Ages: | 10+ |
| Play Time: | 30-60 minutes |
| Release Date: | July 2006 |