Beyond the Veil at a Glance
Eliminate the hours of plotting with this OGL adventure for your favorite d20 game.
Take on the ultimate foe: a mighty dragon and his progeny!
This challenging adventure is designed for characters level 9 and up.
Storamere's Revenge: More about Beyond the Veil
Take on an insane dragon in this complete adventure for your favorite d20 system. Beyond the Veil is an OGL Penumbra supplement written for characters level 9 and up.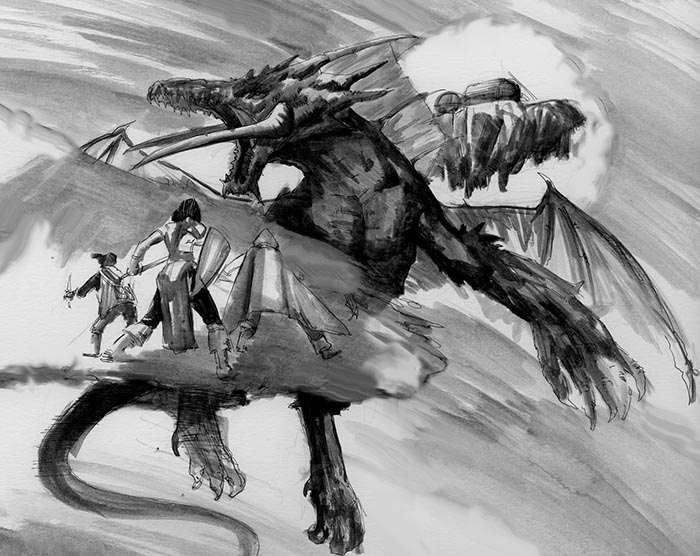 Years ago, the monks of St. Chausle defeated the rampaging dragon Storamere, who died with a curse on his tongue. Now he has returned with a horde of misshapen half-dragon offspring. Only two of the monks remain, both old men driven mad by their last encounter with the dragon. It is up to your hardy band of adventurers to defeat Storamere in his lair, where he is at his strongest.
This sourcebook is available in PDF, although a limited number of print copies are available.
Beyond the Veil: Contents
This full campaign includes:
A variety of half-dragon creatures, including stone giants, umber hulks, constrictors, manticore, carrion crawlers, and dark elves.
OGL rules for dragon bloodspawn and bloodspawn vampires.
Maps and mechanics for Storamere's lair.
Vital Stats
| | |
| --- | --- |
| Author: | Monte Cook |
| Cover Artist: | Helena Wickberg |
| MSRP: | $9.95 (print), $7.95 (PDF) |
| Atlas Stock #: | AG3209 |
| Barcode: | 1-58978-008-6 |
| Format: | 40 pages, softcover and PDF |
| Release Date: | November 2001 |