Pieces of Eight at a Glance
A high-seas combat game for two or more players.
A unique coin-based combat system that puts a new twist on ship-to-ship combat.
Each set includes coins for a single player's ship.
Enemy Ship Sighted: The World of Pieces of Eight
Set sail on the high seas in a ship of your own construction. Pieces of Eight combines two well-known concepts — ship-based combat and treasure chests full of pirate gold — to create a new spin on the genre. In this game, the coins represent your ship!
Set sail with your keen first mate, barrels of grog in the hold, and a pirate's monkey on your shoulder.
Treachery and Battle on the High Seas: Gameplay Basics
In Pieces of Eight, each player controls a ship represented by coins in their hand. Each coin has a special effect: for example, the cannon is used to destroy other players' coins.
The fore and crow's nest coins are visible to other players. The aft coin is always hidden on the end closest to the player's hand. The captain coin is hidden somewhere in the middle.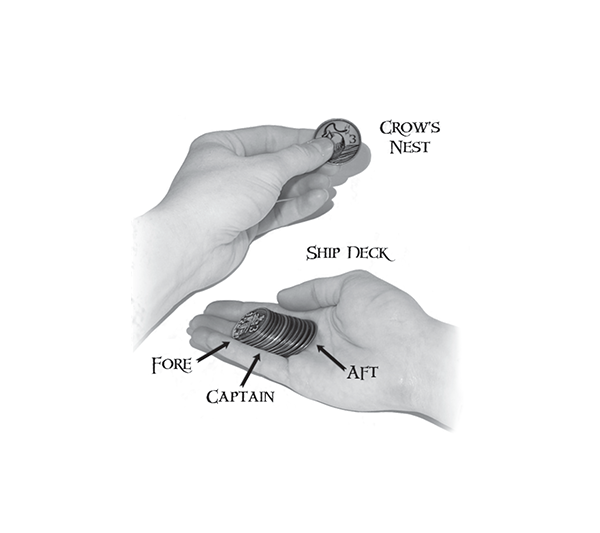 During a turn, players can move coins from the fore and aft to the crow's nest, play coins, move coins next to their captain, or destroy their crow's nest coin. Destroyed coins go to the hold, but beware: some coins can pull them out again.
Destroy your enemy's captain to win the game.
Choose between The Cursed Blade or The Maiden's Vengeance ship sets. Each set includes different coins, and coins can be swapped between sets.
Playtesters
With as many playtesters as helped us with Pieces of Eight, it's not surprising that we missed a few. Our thanks go out to Rich Gains, Jerry Corrick, and Ross Jepson for their help.
Awards
2010 Family Games: The 100 Best.
2007 Origins Award Winner – Vanguard Award for Innovation.
2007 Diana Jones Award Nominee.

Vital Stats
| | |
| --- | --- |
| Designer: | Jeff Tidball |
| Editor: | Michelle Nephew |
| Cover & Coin Artist: | Jeff Menges |
| MSRP: | $19.95 |
| Atlas Stock #: | AG1501 (The Maiden's Vengeance), AG1502 (The Cursed Blade) |
| Barcode: | 978-1-58978-090-3 (The Maiden's Vengeance), 978-1-58978-091-0 (The Cursed Blade) |
| Format: | 16 custom metal coins, a velvet game pouch, and a rules sheet in a 6" x 9" x 1.75" box |
| Number of Players: | 2+ (each with own set) |
| Ages: | 10+ |
| Play Time: | 10–30 minutes |
| Release Date: | September 2006 |