Faith & Flame: The Provençal Tribunal at a Glance
The lands of Provence have been ravaged by the Crusades. Bring them to life with this Ars Magica sourcebook.
The Provençal Tribunal is unique in that any magus can found their own covenant without waiting for permission.
Easily add this intriguing and unique setting to your saga with ready-made locations and characters.
All Are Welcome: More about Faith & Flame: The Provençal Tribunal
The Languedoc. Once the center of courtly love and romance. Now a land of opportunity — at least for the magi. The magi of the Tribunal are torn by disagreement over the Crusades, leaving an opportunity for any magus to find their place, and their people.
Learn more about the areas within the Provençal Tribunal and the important magi and mundanes who live there. Explore the streets of Carcassonne, run afoul of the Cult of Mercury, or take sides in the Albigensian Crusades. This supplement contains a variety of story seeds and resources to launch your story.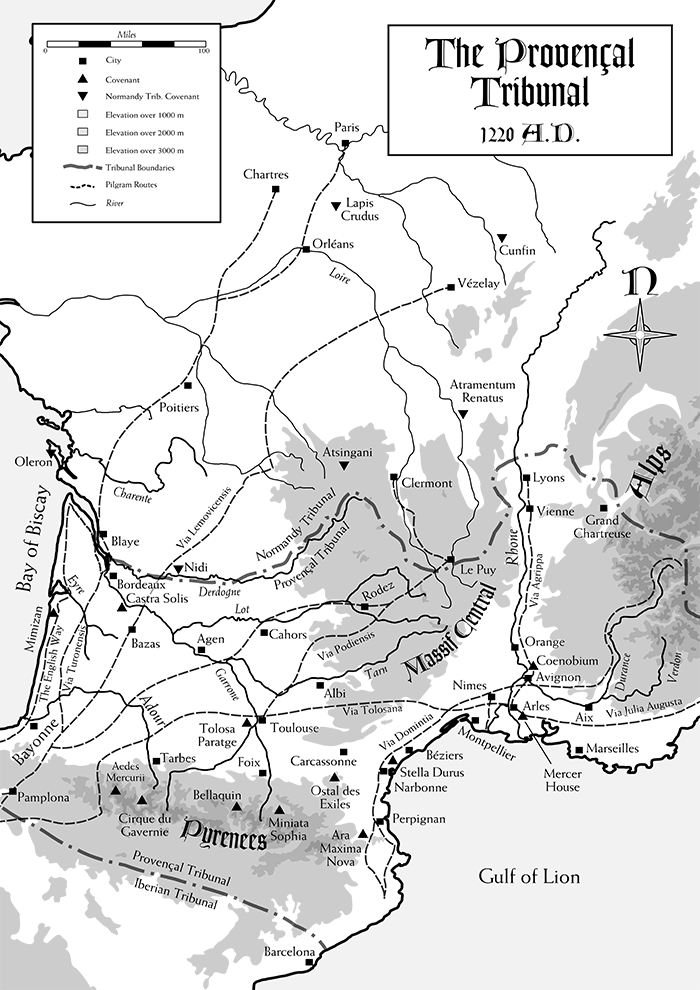 Faith and Flame: The Provençal Tribunal: Contents
Chapter 1: Introductions

Chapter 2: History and Culture

Chapter 3: Hermetic Culture

Chapter 4: The County of Toulouse

Chapter 5: Gascony

Chapter 6: The Pyrenees and the Hispanic March

Chapter 7: Narbonnais

Chapter 8: Arelat

Chapter 9: The Lost Covenant of Val-Negra
Vital Stats
| | |
| --- | --- |
| Authors: | Erik Dahl, Mark Faulkner, Lachie Hayes, Ben McFarland, and Christian Jensen Romer |
| Editor: | David Chart |
| Artists: | Christian St. Pierre, Matt Ryan, Jason Cole, Jenna Fowler, Susan Knowles, Jeff Menges, J. Scott Reeves |
| MSRP: | $29.95 |
| Atlas Stock #: | AG0308 hardcover / AG0308SC softcover |
| Barcode: | 978-1-58978-149-8 hardcover / 978-1-58978-236-5 softcover |
| Format: | 144 pages, hardcover & softcover |
| Release Date: | June 2014 |