Call of the Lich Lord at a Glance
An epic Dungeoneer modular dungeon exploration game for two to four players. No GM, no prep!
The Lich Lord is back and more powerful than ever! This set contains epic-level monsters to challenge your heroes like never before.
Carry your favorite heroes through multiple adventures! This epic title allows you to advance your favorites, or start anew with the provided 4th-level heroes.
Evil Never Dies: The World of Call of the Lich Lord
In Dungeoneer, players control a sword-and-sorcery fantasy hero through an ever-changing modular labyrinth. Each game stands alone or can be integrated with other Dungeoneer titles of the same difficulty.
In Call of the Lich Lord, the villain from Tomb of the Lich Lord is back, and he's badder than ever. This Epic Dungeoneer title puts you face to face with him once again, and now he possesses the Scepter of the Shadow Plague — a gift from the dark god himself.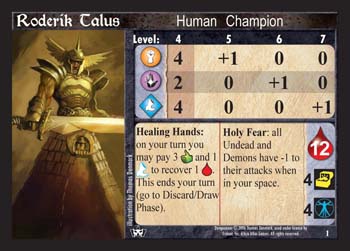 In Search of Adventure: Gameplay Basics
In Dungeoneer, each player is dealt a character card to start the game. Call of the Lich Lord includes the following characters: Human Champion, Elf Spellslinger, Darkling Master Thief, Human MageBlade, Necro Death Delver, and Elf Assassin.
This epic title contains more powerful enemies that only experienced heroes can defeat. Advance your favorite heroes from other Dungeoneer titles, or use the level 4 heroes provided with this set.
On each turn, a player may draw and discard, play Encounters or Bane cards on opponents, build the Dungeon, and move. You collect Peril and Glory tokens as you move, making yourself more of a target for attack.
Complete your Quests to level up and summon your strength to once again defeat the mighty Lich Lord. Can you triumph against him a second time? Find out in Call of the Lich Lord.
Six-sided dice and tokens not included.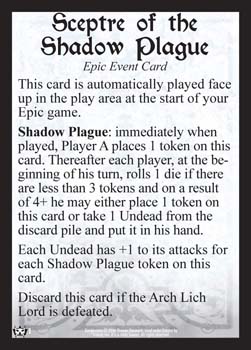 Vital Stats
| | |
| --- | --- |
| Designer and Art: | Thomas Denmark |
| Editor: | Michelle Nephew |
| MSRP: | $19.95 |
| Atlas Stock #: | AG1247 |
| Barcode: | 978-1-58978-088-0 |
| Format: | One 110-card deck and a rules sheet in a tuckbox |
| Number of Players: | 2–4 |
| Ages: | 12+ |
| Play Time: | 20–30 minutes per player |
| Release Date: | June 2006 |