Welcome to the Island at a Glance
The first adventure anthology for the third edition of Over the Edge
Features four original storylines by award-winning authors
All four scenarios include hooks for different character types — making it easy to bring the action to your campaign when and where it's needed
Explore the Island: More About Welcome to the Island
The weirdest island in the world just got weirder! Welcome to the Island, an Al Amarjan adventure anthology, brings four new scenarios to the reimagined world of Over The Edge 3rd edition. With the help of Welcome to the Island, GMs can launch brand-new stories, add intriguing complications to existing arcs, and create one-shots that explode across the gaming table.
Battle of the Bands takes you on the ultimate Al Amarjan road trip. There's only one way to beat this Mover conspiracy. It's time to get the band back together!
A Conclave of Chikutorpls, or the Winds of Change Are Blowing (Up), or How I Learned to Stop Worrying and Love the Multidimensional Convergence. Place your bets now.
Seversen's Mysterious Estate is hosting the most important party on the entire Island, and you've got an invitation. Unfortunately, so do Dr. Morpheus, an astral vampire, a team of totem champions, and a Presidentials wetworks team.
Sympathy for the D'Aubainnnes sees citizens all across the Edge receive a parcel containing a lifelike rubber mask of one of the D'Aubainnes. Once you put it on, you'll find you can't take it off. That's when the killings start.
Every scenario can be used to either launch a campaign or slot seamlessly into any Over the Edge campaign. Each adventure is almost infinitely reusable, providing a springboard for hundreds of future campaigns.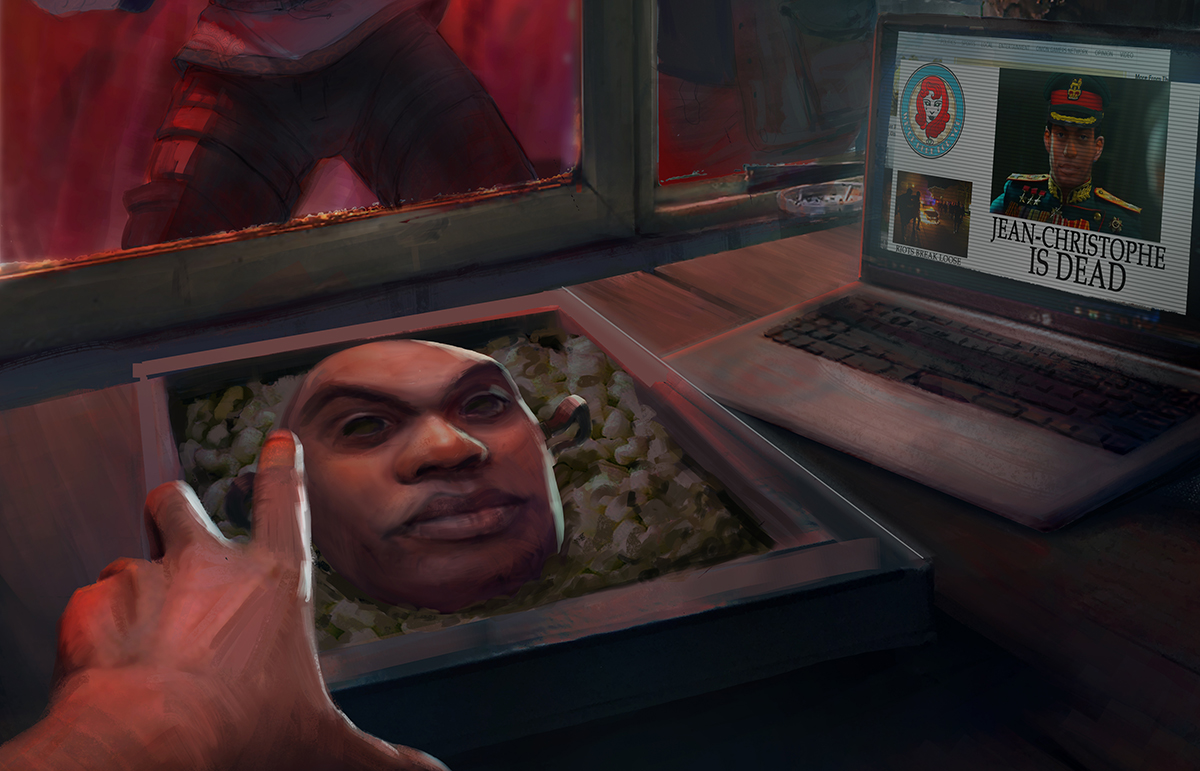 Take a road trip with an ominous twist. Overthrow the government. Explore the place you only think you remember in Welcome to the Island.
Produced with a grant from the Al Amarja Tourism Taskforce. Visit the Island today! Once you've come, you'll never leave!

Available in Three Different Formats
Welcome to the Island is available in three formats. The most luxurious of these is a full-color, hardcover book. We also offer a black and white edition that some fans have told us does not meet their production quality expectations. We do not want you to be stuck with a product you are unhappy with, but we also know that some readers prefer to keep costs as low as possible.

Another alternative is our PDF edition, which is also low-cost, and does not have the black-and-white edition's legibility concerns.



Vital Stats
| | |
| --- | --- |
| Authors: | Jonathan Tweet, Justin Alexander, Nick Bate, Jonathan Killstring, Jeremy Tuohy |
| Artists: | Anna Dittman, Carolyn Arcabascio, Jon Bass, Kat Hardy, Jack Hoyle, Ekaterina Kazartseva, Gareth Keenan, Bryan Lee, Daniel Martin, James Mosingo, Carlos Villalobos, Alan Washburn, Randolph Williams |
| Producer: | Justin Alexander |
| MSRP: | $29.95 (standard), $59.95 (deluxe), $14.95 (PDF) |
| Atlas Stock #: | AG2152 (standard), AG2152L (deluxe), AG2152PDF (digital) |
| Barcode: | 978-1-58978-197-9 (standard), 978-1-58978-201-3 (deluxe) |
| Format: | 144p black-and-white softcover (standard), full-color hardcover (deluxe), PDF (digital) |
| Release Date: | January 2020 |