No Longer Available
After a long partnership with us, GamePlayWright products are no longer available via Atlas Games. You can now find their offerings at gameplaywright.net

Beating the Story at a Glance

"For writers, critics, and other dedicated consumers-of-narrative, Beating the Story is the book where Robin Laws hands you a scalpel and invites you to get up to your elbows in the bloody guts of how stories work." —Margaret Dunlap, Bookburners and The Lizzie Bennet Diaries

The World of Beating the Story
The most compelling stories move us emotionally. Up and down, between hope and fear, in ways we don't always expect—but that you can harness as a writer, editor, and critic. This book shows you how to track, map, and understand the rhythm of a story. Whether you're writing or rewriting, editing a manuscript or dismantling your favorite television episode, Beating the Story helps you understand how stories get hammered into shape.
Beating the Story combines Laws' insightful and articulate analysis of story beats with all-new transition beats and icons to do for fiction and screenplays what his Hamlet's Hit Points did for narrative games. Read it and see how to map, understand, and elevate any narrative. Foreword by John Rogers!
"A comprehensive map to writing fiction that only Robin Laws could deliver." —Mur Lafferty, author of Six Wakes
How Is This Book Different from Hamlet's Hit Points?
First, while Hamlet's Hit Points is a book about roleplaying games for gamemasters and players of roleplaying games, Beating the Story is for writers of fiction across all forms, including screenplays, prose fiction, comics, and stage drama. Second, Beating the Story introduces a new type of beat element that describes the transitions between scenes, in addition to the type and emotional direction of each beat. Finally, Beating the Story provides substantially more practical advice on how to use the story beat system when you're writing and creating. The book features four extended analyses (Maupassant's "The Necklace," the Mad Men episode "Have a Seat, Shut the Door," the X-Files episode "Home," and a scene from The Color Purple), but the majority of its content — more than 75% of its page count — consists of practical guidance on topics like conceiving your story, considering its hero, mapping its beats, writing drafts, revising, and even editing and giving notes on the work of others. Here's a preview of the Table of Contents (PDF) for you.
About the Author
Robin is the author of eight novels plus the short story collection New Tales of the Yellow Sign, and has edited five original short fiction anthologies. He designed such tabletop roleplaying games as Hillfolk, Feng Shui, The Esoterrorists, and The Yellow King Roleplaying Game. Hear him discuss writing and story, among many other subjects, on the award-winning weekly podcast Ken and Robin Talk About Stuff.
The Story Beats Web App
Check out the Story Beats app online to quickly and easily create your own beat maps like those you see in Beating the Story and Hamlet's Hit Points. Share them or keep them private, as you prefer. Story Beats is a labor of love by a brilliant crew — free to use, with no ads, and they don't sell your data. It works great in any modern browser on a desktop, laptop, or tablet. (Unfortunately, phone screens are too small to make editing or viewing beat maps practical.)
Free! Guides, Beat Maps, and Icons
Here are big versions of beat maps (in PDF) from the book, free for your reference. We've also made the guides and worksheets from the book's appendix available as full-page sheets for free, in PDF for easy at-home printing. See how the book helps you see and understand your stories! The icons and arrows illustrated by Craig S. Grant, and used in both Beating the Story and Hamlet's Hit Points, are licensed for use under a Creative Commons license. The new transition icons, debuting in Beating the Story, are also licensed for use under a Creative Commons license. This ZIP package contains the icons (AI, SVG, and EPS) and license for you!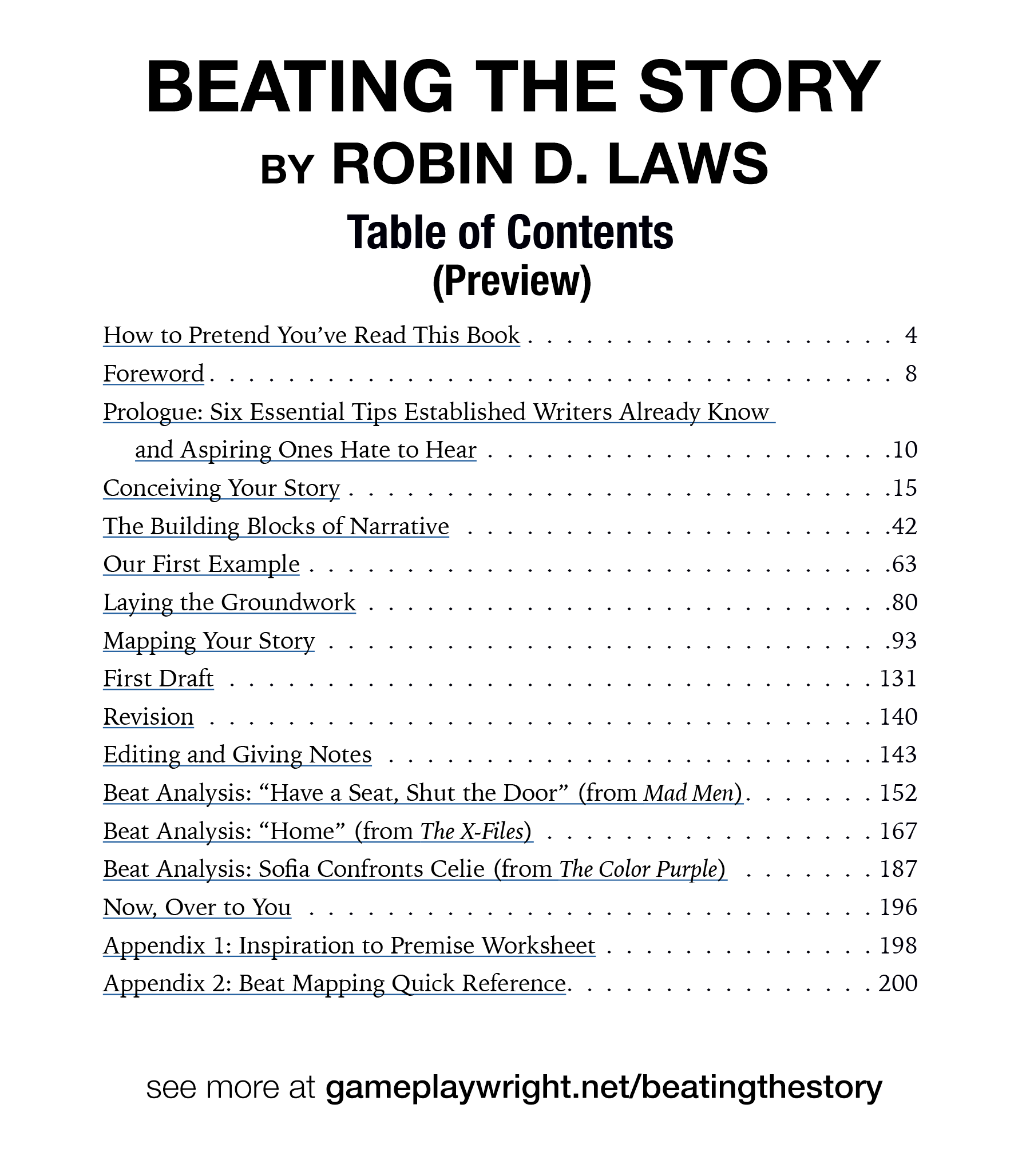 Vital Stats
| | |
| --- | --- |
| Author: | Robin D. Laws |
| Photography: | Angelina Litvin, Jesse Orrico |
| Publisher: | GamePlayWright |
| MSRP: | $19.95 |
| Atlas Stock #: | GPW005 |
| Barcode: | 978-0-9818840-4-2 |
| Format: | 6x9 inches• 220 pages • softcover |